Critical Elements for Creating a Powerful Ecommerce Website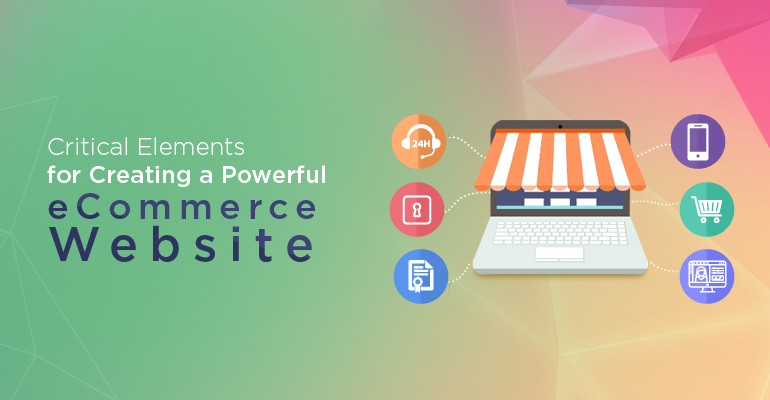 Do you have an eCommerce store but don't have an eCommerce website to make your business internet-friendly? Do you have a website already, but it is not generating maximum sales? Then, this is a time to update your website's features and customize your whole site. We are here with five critical elements for creating a powerful eCommerce website. 
Your eCommerce website must opt for these features in order to become more convenient for buyers.
Electronic commerce is the new dawn of online shopping, making shopping a "fascinating activity." It has entirely changed the ways of selling products in the world of business. In 2021, there was a massive bombardment of online eCommerce sales that hit the digit of 4.88 trillion US dollars.
So, your business website must accurately depict what you are offering to your customers. You can contact a website development agency to build a well-designed and functional eCommerce website. 
Top 5 critical elements for creating a powerful eCommerce website
Your website must be equipped with the following elements to generate more sales:
Website must be user-friendly
Design website by keeping in mind the quote, "Mobile is the future." Customers use their mobile phones for online shopping or just for stalking their favorite brands. Therefore, your website must be mobile-friendly because a mobile-friendly website is a user-friendly website.
To conclude, your site must be simple, sober, and user-friendly. The website must provide to-the-point information related to what it is made for. Don't try to play guessing games with the users to upload unrelated content. The landing page must accurately depict your services and their description.
Website speed matters a lot
Do not compromise on the speed of loading a site because it decreases the "retaining time" of the user on your site. Users give up on a site that takes time to load. Use Portent to locate your site speed and improve your page value up to 8%. 
Design of your eCommerce website
The appearance of your website pages matters a lot. An eCommerce website generally consists of the following pages:
Home page

About US / Contact Us

Terms and conditions

Payment page
Your website's landing page should contain the product graphics, details, price tags. It is what a customer is looking for when he clicks on the URL of your site. Clarity of design helps the user to move around the site more easily. Customers feel more comfortable scrolling down and narrowing down the results to find exact or something close to what they are looking for.
Ecommerce website design significantly influences user experience that in turn affects conversion rate. Attractive font style, size, and accurate colors can improve the user experience. The site structure can be helpful by paying attention to navigation, search options, working links, and ease of accessing the site. 
Proper placement of Call-to-action (CTAs) Buttons
Call-to-action buttons can significantly boost your eCommerce website by generating more sales. Action buttons create an actual sale funnel that is one of the most substantial client-focused marketing models. Customer-centered marketing approaches include steps the user takes to become your potential customer.
If the customer is scrolling your site, one of your products suddenly catches his attention. He clicks on it to know the product details, including price. There should be a clear CTA on this page and further purchasing details. 
Convenient shopping cart options
Flexible shopping cart options help users to have a clear glimpse of their total purchase. Users can easily add their favorite products to their shopping cart, or they can alter their purchases before checking out. Don't make your user perform multiple steps on the website to purchase a single product. Your site may face a poor user experience in this way. 
Conclusion
An eCommerce website with a flawless user interface (UI), eye-catchy website designs and graphics, call-to-action-buttons, and proper navigation can indeed generate a sale funnel. Responsive website design, search engine optimization, and valuable analytical tools with advanced ADD-ONs make an eCommerce website powerful and dynamic.
Make sure that all these critical elements are present on your website!
DBWebs is making sure to help you with high-quality website solutions to make your eCommerce business engaging, giving it a more user-friendly perception. Get in touch with us.